Pre-monsoon Checklist for Building
Why a checklist?
A checklist is a list of tasks you need to check, inspect & verify. Checklists are used in every imaginable field — from building inspections to structural operations. Using a checklist allows you to ensure you don't forget any important steps and comply with the standard operating procedures.
Why Pre-Monsoon checklist for buildings?
Monsoon in India begins nearly in early June. With the monsoon, the weather becomes pleasant, gloomy, and smells of mother earth spreading the joy of rain!
During monsoon, because of rain, there are likely chances of the Water penetration in the structure which not only deteriorates them but also creates a chance of water percolating through them. So, it turns out as essential to have a precautionary check to avoid the damages in the structural building wisely.
Here's a list for your ready reference.
1. Check for the Cracks
At Terraces
At Sidewalls
At Chajjas
2. Check the seals
Windows & Ventilations of Lift rooms, Basements
Doors of Lift room
Doors of Staircase lobby
Entry & Holes of Cables for TV & Internets
flashing & joints
3. Ensure proper slope
At Terrace slab level
At Chajja level
at Parapet covers
4. Ensure the Cleaning:
at Mouth of the drainage area / down take
at Strome water drain pipe
at Water Harvesting reservoir
of bird's droppings
of small grown roots & climbers
below the water tank area (if on the platform)
5. Check no exposure of any electric cables, junction boxes to be open
6. Installations & Fixes:
Installing & covering open ducts
Closing the cutout lefts of cable & pipe entry
Checking & fixing covers for water tank, septic tanks.
Installation of Shades over open windows & balconies
Installation of skirting at doors for the terrace, staircase & lift room
Replacing the broken glasses, facades and other cladding materials
Dummy holes & loose fixes of the pipes & cables
Clamping of downtake pipes
7. For Basements:
Provision, commissioning & operation of the Sump pump in the basement
Leaks from the negative pressure on retaining walls
Outside packing of the junction of retaining wall & ground area
Oh my gosh! That's too much to check at.
No, this is just little against the damages which it can bring to the structure and inconvenience which can bring to mental and financial peace.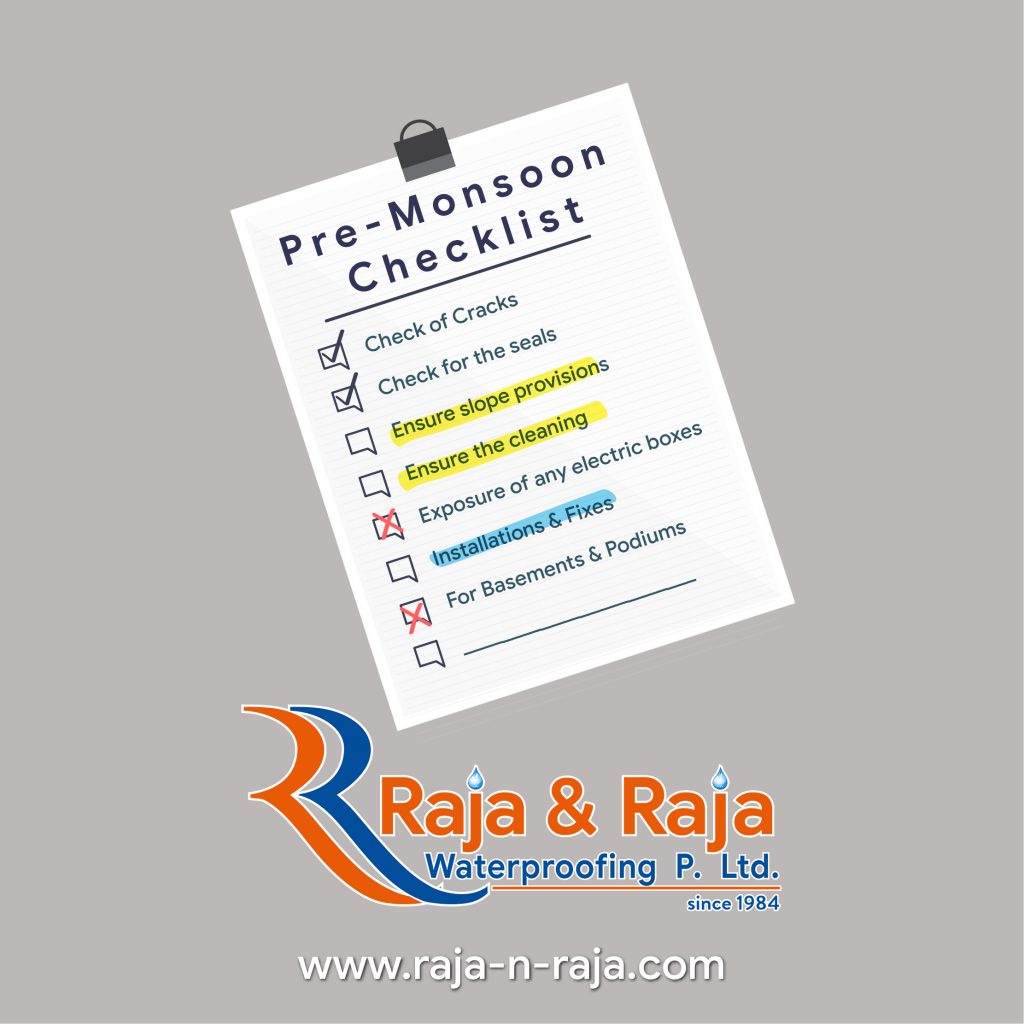 Remember: PREVENTION is BETTER than CURE!