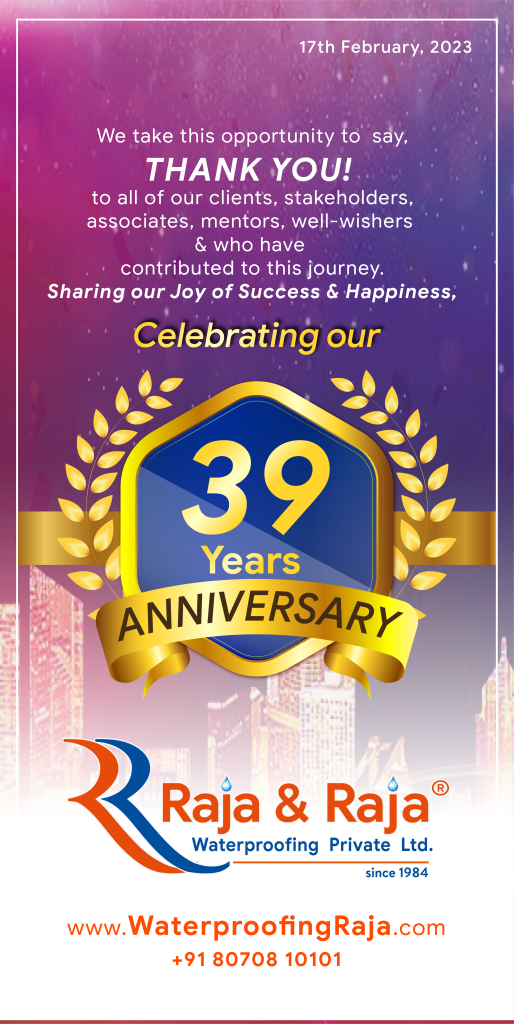 Dear valued Clients, dedicated Team, supportive Suppliers, trusted Business Associates, inspiring Mentors, caring Well-wishers, and loving Friends and Family,
We are thrilled to celebrate the completion of 39 years of our journey in #Waterproofing, and we couldn't have done it without your unwavering support, encouragement, and trust. As we reflect on our journey, we are grateful for all of you who have been a part of our story.
To our valued Clients,
Thank you for your trust in us and for allowing us to serve you with our products, services & Solutions. We are committed to providing you with the best quality and the highest level of customer service.
To our dedicated Team,
Thank you for your hard work, commitment, and passion for making this business successful. You are the backbone of our organization, and we value your contributions and loyalty.
To our supportive Suppliers,
Thank you for being our partners in growth and providing us with quality materials and resources that have enabled us to meet the needs of our clients.
To our trusted Business Associates,
Thank you for your collaboration and partnership in achieving common goals. Your support has helped us navigate challenges and seize opportunities.
To our inspiring Mentors,
Thank you for your guidance, support, and wisdom in shaping our business philosophy and helping us achieve our vision.
To our caring Well-wishers,
Thank you for your encouragement, positive energy, and good wishes that have kept us going through thick and thin.
To our loving Friends and Family,
Thank you for your love, support, and understanding. Your unwavering faith in us has been our biggest strength.
As we step into our 40th year in business, we are excited about the future and committed to serving you with excellence.
Thank you for being a part of our journey.
With gratitude,
Team Raja & Raja
Raja & Raja® – Waterproofing Solutions