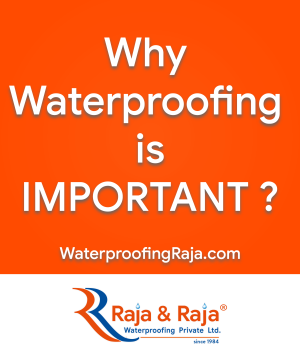 Waterproofing is one of the fundamental construction requirements of any building structure. Modern building structures are waterproofed using membranes and coatings to protect their integrity. However, many residential, commercial and industrial facilities report water damage every monsoon. Most of these problems are due to Waterproofing which may include inadequate Waterproofing, damage to the waterproofing layers or failure of waterproofing systems.
Suppose this water ingress is not fixed promptly. In that case, it will start damaging the structural life of the building and will also affect the service life. So, the WATERPROOFING of the building is highly crucial. In the present time, attention to the compliance of Waterproofing is part of building regulations.
The contractors and waterproofing contractors must follow the guidelines & principles of Waterproofing to ensure the safe, sustainable application of the Waterproofing to prevent water ingress. Selecting the right waterproofing solution, material and applicator is a must.
---
Also read: Step by Step Guide to Finding, Hiring & Working with Contractor, Contracting Company or Contracting Agency.

---
Lack of proper waterproofing solutions & poor applications can have a fatal risk to human health and assets. Of course, the rectification cost of such damages is higher. However, the damage to human health is implacable. Therefore, it is always wiser to invest in preventive Waterproofing measures rather than rectifying the damage.

"Waterproofing is a Preventive Measure and not a curative measure, whereas fixing Leakage & Seepage are Curative in nature."

Every building structure requires routine maintenance to address and attend to any damages. These damages could arise due to harsh environmental conditions, cracks, carbonation and water ingress.
Waterproofing is a very effective preventive method. However, repairing the water-damaged structure is expensive.
Here comes a million-dollar question,
WHAT HAPPENS IF BUILDINGS ARE NOT WATERPROOFED?
No/poor/bad Waterproofing helps water infiltrate the structure through cracks, voids, pores, joints, discontinuities and capillaries. These cause damage to the building materials, leading to mould growth, rot, deterioration and corrosion, which are common defects. It can also cause health hazards for the occupants, electrical and mechanical systems to malfunction, and increased energy costs. In addition, the growth of mould spores can lead to allergies, fungal infections and asthma irritations.
The lack of Waterproofing can lead to structural damage and make the building unsafe and uninhabitable if left unresolved.
---
Also read: Why Waterproofing Fails?
---
After undertaking over hundreds of investigations and studying the number of issued national & international reports on these water leakages in a building structure, There are about 50 terrible diseases caused by living in a damp or seeping indoor environment.
The problems associated with moisture dampness, seepage and leakage could be effectively addressed and restored by using proper diagnosis and analysis of the issue, identification of leakage source, suitable quality materials, trained & skilled workers, and proper curing.
Experienced waterproofing contractor offers Waterproofing solutions to all types of structures. Some products could be applied manually (Brush, Trowel, etc.) and spraying. They are designed to prevent water leaks and moisture penetration in existing and new structures.
The selection of waterproofing products has to be taken into account based on specifications or the nature of the problem. Also, the preferences are based on solution effectiveness, ease of use, and turnaround time to return to service. Special attention is paid to understanding a multi-product system's comprehensiveness, as the compatibilities of materials based on chemistry are crucial.
Today's material engineering and waterproofing advances have revolutionized the modern construction industry, considering ease of use, excellent durability, and sustainability. Maintenance and patching parameters play a vital role in the selection of Waterproofing systems.
Globally a lot of research is ongoing towards preventing water from entering the structure, with the help of modern solutions from leaders in Construction & waterproofing chemicals.
Providing Waterproofing to entire structures from the raft to rooftops, including basements, swimming pools, water storage areas, water-prone areas, balconies, and terraces, benefits the service life of the overall building structure.
Typically the new construction needs extensive moisture-control and waterproofing measures. These are precisely achieved by extreme detailing to waterproofing application at a design stage. Waterproofing can also be done after the building has been constructed and leakage issues are identified.

---
Also read: Importance of Waterproofing
---

Hence, Waterproofing is crucial for many reasons.
There are specialized Waterproofing agencies with special skills, training, tools, technology and experience for structural Waterproofing, offering rehabilitation and maintenance with assurance.