Waterproofing of Terrace with china mosaic is a debatable topic.
We come across a lot of clients who get education from fellow applicators, contractors, consultants, experts, and other categories of people who say Waterproofing is not advisable on this or waterproofing can't be done over surface fixed with ceramic tiles/ vitrified tiles/ china mosaic tiles and give them different reasons and explanations of adhesion, servicability, warranty etc.
We at Raja & Raja® undertake waterproofing of the terrace laid with china mosaic, vitrified tiles, ceramic tiles without removing them (unless broken or hollow) using our set of derived and proven waterproofing systems.
We would like to share this document as part of the 𝐜𝐚𝐬𝐞 𝐬𝐭𝐮𝐝𝐲 𝐨𝐟 𝐚 𝐬𝐢𝐭𝐞 𝐞𝐱𝐞𝐜𝐮𝐭𝐞𝐝 𝐟𝐨𝐫 𝐰𝐚𝐭𝐞𝐫𝐩𝐫𝐨𝐨𝐟𝐢𝐧𝐠 𝐨𝐯𝐞𝐫 𝐞𝐱𝐢𝐬𝐭𝐢𝐧𝐠 𝐜𝐡𝐢𝐧𝐚 𝐦𝐨𝐬𝐚𝐢𝐜 𝐭𝐢𝐥𝐞𝐬 𝐰𝐢𝐭𝐡𝐨𝐮𝐭 𝐫𝐞𝐦𝐨𝐯𝐢𝐧𝐠 𝐭𝐡𝐞𝐦 𝐚𝐧𝐝 𝐨𝐟𝐟𝐞𝐫𝐢𝐧𝐠 𝐭𝐡𝐞 𝐏𝐞𝐫𝐟𝐨𝐫𝐦𝐚𝐧𝐜𝐞 𝐰𝐚𝐫𝐫𝐚𝐧𝐭𝐲 𝐨𝐟 𝟓 𝐲𝐞𝐚𝐫𝐬.
Of course, there are a few cautions which one needs to take, but the document is shared with maximum knowledge for any applicator to end-user.

for more details:
Phone: +91 80708 10101
Email: [email protected]
Website: www.WaterproofingRaja.com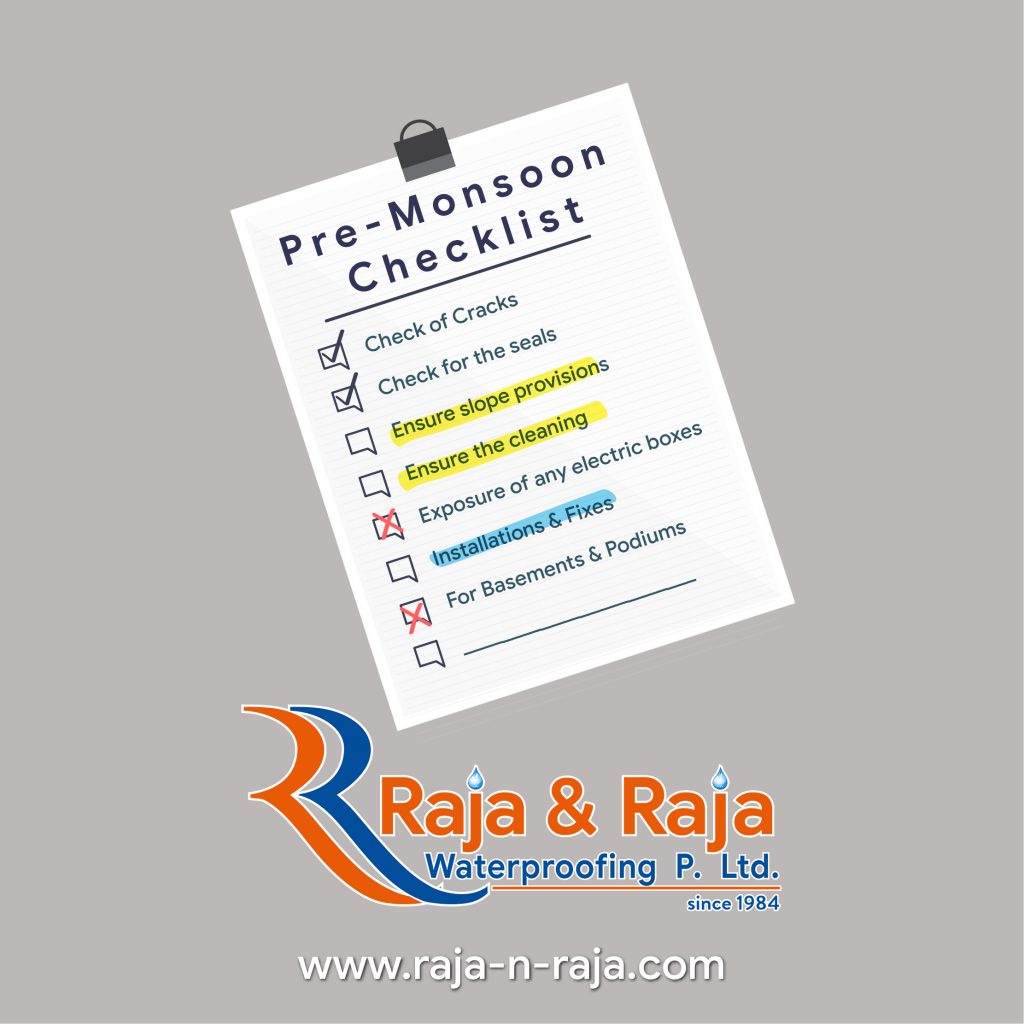 Also read: Pre Monsoon checklist for Buildings
We at Raja & Raja® – Waterproofing Solutions Experts undertake all kinds of challenging jobs and reward warranty for the executed work; not to restrict, we always assist our client with their waterproofing requirement for their asset protection and maintenance.