OPERATIONAL UPDATE
23rd March 2020
From desk of CEO, Raja & Raja®
We wish our clients, vendors, suppliers and TEAM at Raja & Raja and Stakeholders, a good health during present pandemic of COVID-19 & SARS-COV-2 declared by World Health Organization along with Government of India and Maharashtra State Government.
As our Waterproofing Business can't be done in style of WORK FROM HOME (WFH) for our team; As our team needs to visit the client sites and help them investigate the Leakage Sources and help them with remedies. On regular basis, we visit nearly 30+ homes/offices and other premises suffering from Water Leakage/Seepage/Dampness related issues and our meet across nearly 70+ people on an average.
In interest and health benefit of our all clients, team & stakeholders,
WE ARE HALTING ALL OF OUR OPERATIONS until further declared.
We appeal all the Citizens of nation to follow their civic duty and remind them 
Avoid Shaking hands,

Social Distancing Policy (Avoid close contact with people who are sick)

Avoid touching Eyes, Nose & Mouth,

Wash you hands often with Soap,

Cough or sneeze in a tissue or in the croock of your arm,

Use the tissues and dispose them in a lidded bin,

STAY HOME unless required.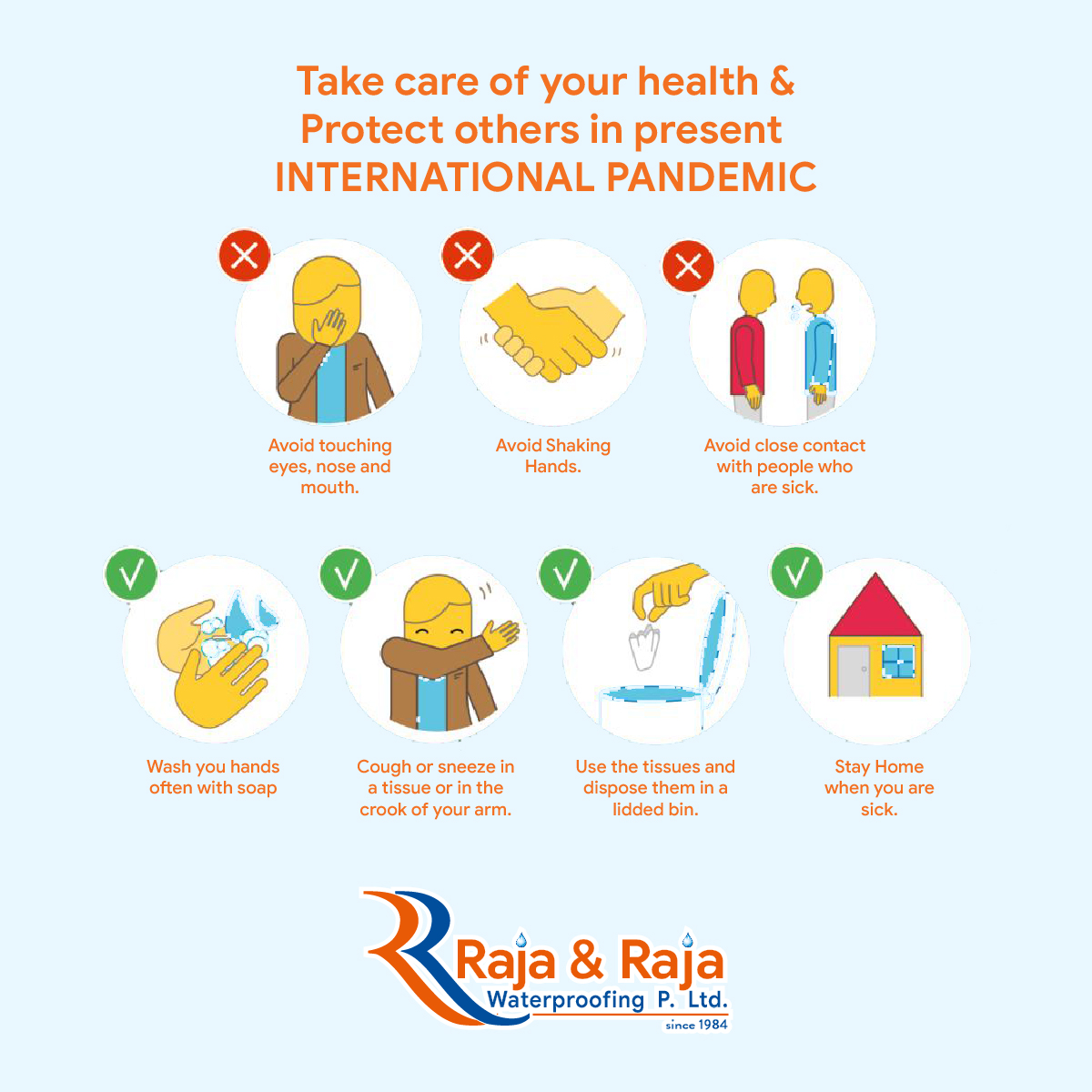 Stay Safe & Healthy by follow the preventive measures thoroughly.
We look forward to serve you better in the days ahead once everything regularize with our all forces in.
Meanswhile, we again wish everyone a very good health.
–
CEO,
Raja & Raja Waterproofing P. Ltd.
www.raja-n-raja.com | www.rnr.co.in