21st June 2020 – International Yoga Day
#WaterproofingYoga #YogaAndWaterproofing #Yoga #Waterproofing #InternationalYogaDay

Yoga And Waterproofing – let's learn something new this World Yoga Day from a Waterproofer.
Did you know that Yoga and Waterproofing have a lot of similarities when actually compared with each other?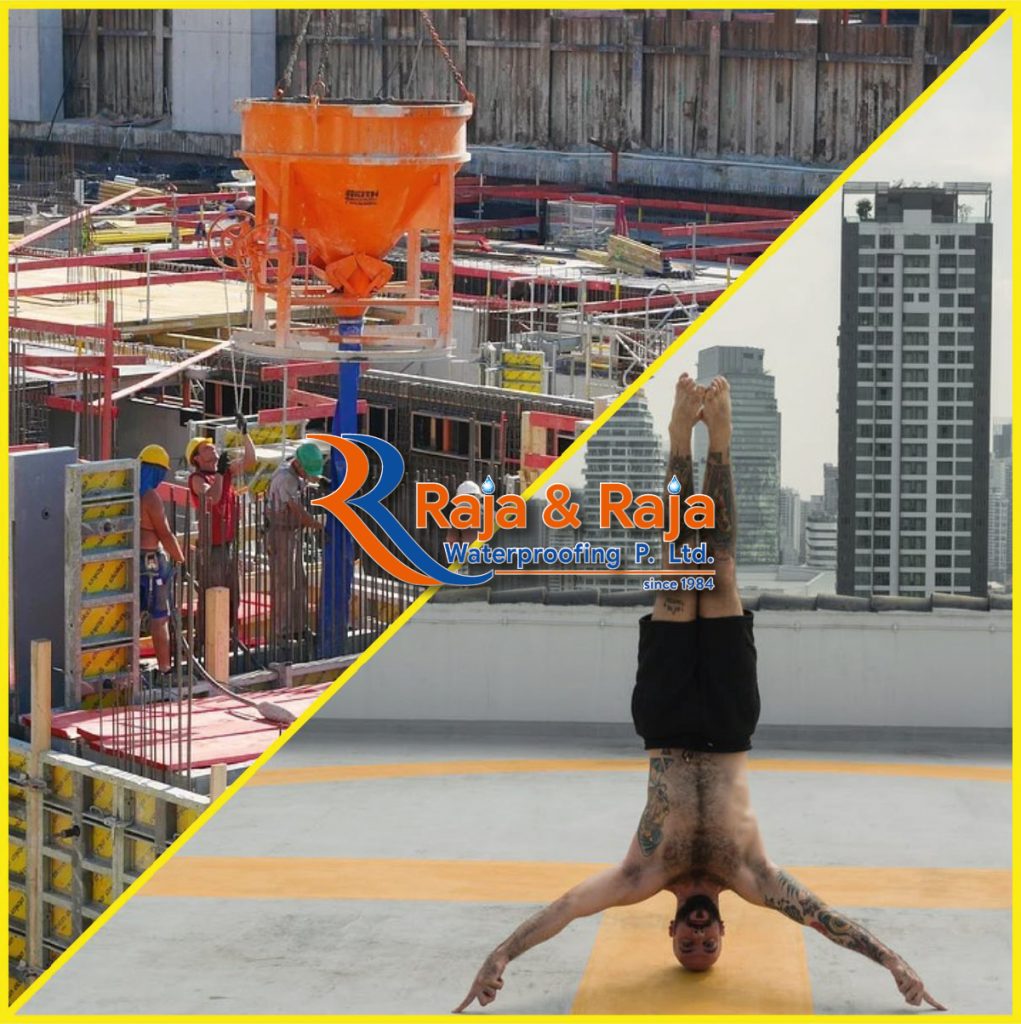 Well, if you're confused, let's settle that for you.
I've drawn similarities between the two activities to show you exactly what we're talking about –
Yoga and Waterproofing – to be scheduled early
While yoga and waterproofing are poles apart when you look at them individually, they actually have more in common than what meets the eye. The most common similarity between them is the fact that yoga and waterproofing both need to be scheduled "early".
Let's explain:
According to the scriptures, early morning is the best time to do yoga – with an empty stomach and an empty mind that's devoid of thoughts so you can start your day on a fresh note. Similarly, waterproofing is also planned earlier in the construction schedule and the right form of waterproofing has to be properly set up before any other parts of the home. This means you need to waterproof your home before you set up the foundations, WC/Bathrooms (initiate tiling within the interiors) or even roofs.
Yoga and Waterproofing – The earlier you begin it, the better
That's right. Both yoga and waterproofing are best enjoyed if you do them early on in life. Indian parents try to push their children to practice yoga in their day to day routine. It helps them concentrate on their studies better and also enjoy the benefits of a sound mind and body. Children can adapt and grasp the lessons and postures well, allowing them to get better as they grow older and form a routine that works well for them.
The same way, Waterproofing is also considered an early activity that's ideal for anyone looking to build their own space. This process is done when the foundation is poured with the liquid concrete taking the role of being the primary waterproofing agent. It does so for the entire lifetime of the structure to ensure long-term durability and safety of structure from water ingress such as seepage, dampness & leakage.
Yoga and Waterproofing – touches your soul
Yoga, while being an exercise, also allows you to understand yourself better, with your abilities and routine getting shaped effectively. It trains your mind to be sharper and in the process, keeps you happier and content with your progress in general.
It allows you to forget the worries you face in life and focus on improving your soul so you look forward to any challenge with a zeal and a will to succeed more than anything else.
Waterproofing too, surprisingly, is like yoga. It isn't all about applying to any surface externally but it is a process of exercising it right at the source of the problem which is the soul of any leak.
It helps you set the base on which you can build a happy home around.
Yoga and Waterproofing – requires necessary patience and flexibility
Ask any person who has been practicing yoga regularly and they'll tell you that they've seen a major improvement in their flexibility from many perspectives. This flexibility isn't relegated only to their physical stature, but also in their mindset, approach, thoughts as well as body physics too.
Waterproofing is the same, where stiff structures which undergo stress and moments, are given the right amount of flexibility and durability to last the long term. It gives the structure a long-term guarantee of goodness and strength, similar to how yoga does to the brain.
Yoga and Waterproofing – Holistic approach
Yoga sums up the yog, which is the physical exercises, with meditation, for mental well-being and spirituality, together as one.
Each yoga step manages to fuse all three of these factors together and brings the change in a human being as required for their development as a person to aid in their progress.
Waterproofing solutions also rely on certain factors to succeed entirely – with the surface condition acting as the physical structure, followed by the structural strength acting as the inner structure and the nature of the systems and products playing its role in waterproofing the structure from an overall perspective. This gives waterproofing holistic sensibility, making it similar to yoga.
These are some of the ways in which Yoga and Waterproofing are similar to each other in the way they're approached and implemented. Understanding the fundamentals ensures you get the maximum benefit from both, ensuring success and stability in all forms.
#WaterproofingYoga #YogaAndWaterproofing #Yoga #Waterproofing #InternationalYogaDay